ALONI Rigklia
ALONI is a detached holiday house with a wonderful sea view and is located in a quiet surrounding, just outside the small village Rigklia, on the coast of Messenia on Peloponnese.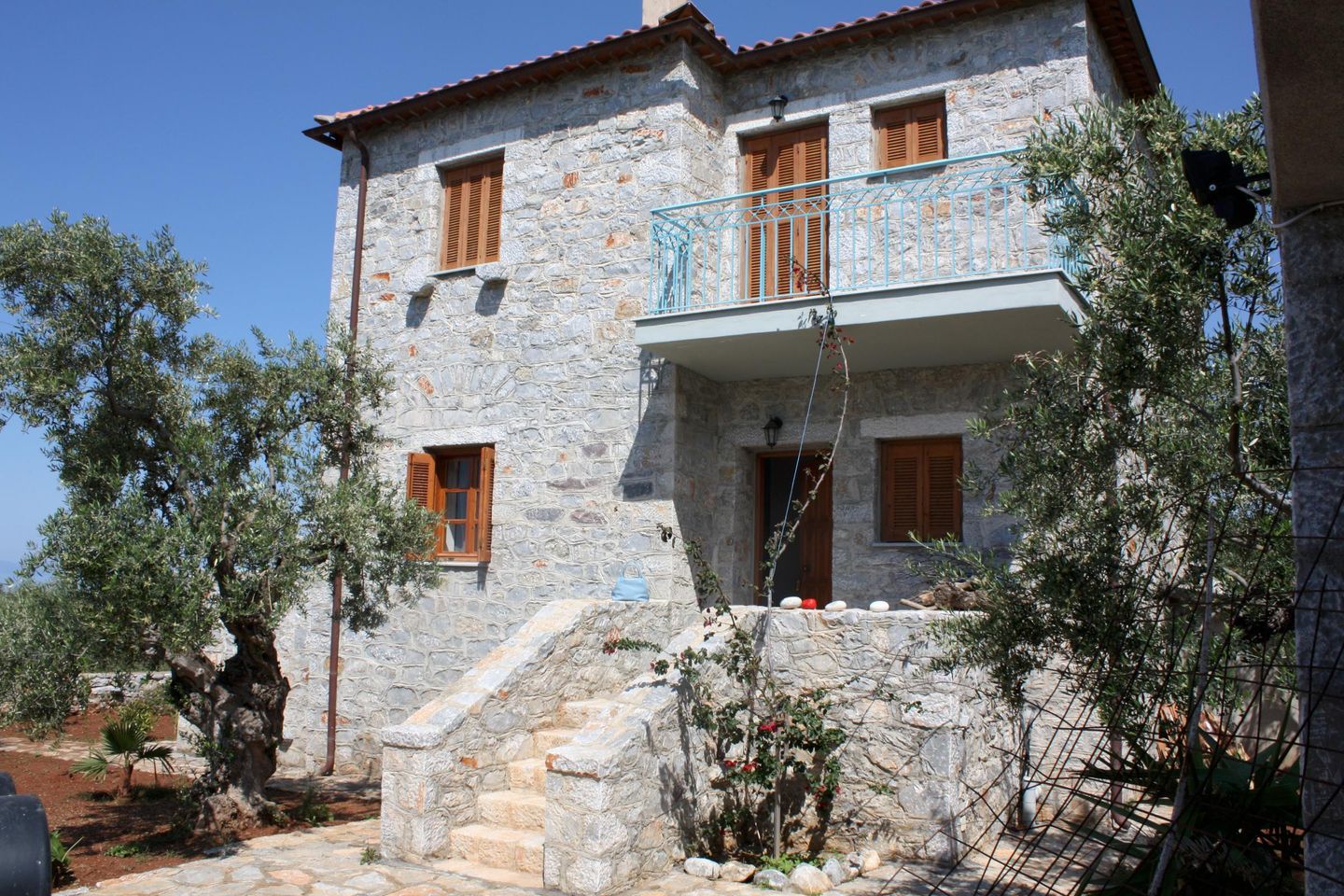 -facility.title-
Show more text
-unit.title-
ALONI is a comfortable detached house built in the regional style and is situated on a large garden and nature property close to the beautiful sandy bay of Pantazi, on the western coast of the Mani region. The holiday house is in an idyllic and rural location, immersed between dense olive groves and has a free view across the Messenian Bay and the sea. The name ALONI – it means threshing floor - refers to the former use of this place that now accommodates some holiday houses.
ALONI is a two-storied stone house that is tastefully furnished and is in a slight hillside location above the sea, half way between Rigklia and Aghios Nikolaos. Two small footpaths lead you through dense olives groves from the holiday house to the beautiful sandy beach and the wonderful promenade of the picturesque fishing village Aghios Nikolaos.
Access to the house on elevated ground floor is via 6-7 steps. The equipment of the house is modern and nice. The open kitchen corner and the bath room are adjoining to the spacious living room with several seating options. There is direct access to a partly roofed terrace facing the sea. On the upper floor are two bedrooms, the bath and a large terrace with a magnificent sea view. The sunsets can be enjoyed from both of the terraces.
15% Special offer
On booking a minimum of 7 days, you will receive a 15% discount for each further day. This offer is available during all seasons except for the period of 01.07. – 31.08. The discount will be automatically shown on the booking confirmation.
Show more text
Summary
Unit-category

:

house

Sleeps

:

Max.

7

Persons

Only for kids

: 2

Rooms in total

: 3

Bedrooms

: 2

Bathrooms

: 2
Jassu

Classification

: 4

Stars
Bedroom
1 bedroom (first floor), 1 double bed (150cm), ceiling fan.
1 bedroom (first floor), 2 single beds, ceiling fan.
Livingroom
Ecksofa geeignet für 2 Kinder/Jugendliche.
1 Sofa für 1 Person.
Bathroom
Bathroom with shower, toilet (ground floor).
Batroom with shower, toilet (first floor).
Facilities
General
Near the sea

View to Ocean / Sea

Pool

pool is private

Internet

wifi

Television

digital TV

Safe

Pets allowed

Air conditioning

heating system

: central

Fireplace

Washing machine

fly screen

car necessity

: necessary

year of construction

: 2011
Outdoor
pool size

Garden

plot size

: 850 m2

outdoor shower

Balcony

Terrace

Sunbathing area

garden furniture

parasol

carport

garage

Outdoor kitchen

closed plot

Private Parking place

BBQ area

BBQ type

: coal
Kitchen
Kitchen

Refrigerator

Freezer

Dishwasher

Coffeemaker

Espresso machine

Water heater

Mixer

Toaster

Sandwich Toaster

Ironing board

Flatiron

Type of stove

: 4-burner

Microwave

Oven connection

: eletronic
Children
children welcome

highchair

baby cot
Distance
Distance to Ocean / Sea

: 700 m
Sand

Beach

: 700 m

Distance to shopping

: 1 km

Distance Restaurant

: 500 m

Kalamata (KLX)

: 58 km

Patras/Araxos (GPA)

: 235 km

El. Venizelos,Athen (ATH)

: 315 km

Patras

: 270 km
Calendar
You might like these similar properties
LAGIA
The well-maintained property XEMONIA with pool is located above the sea at the fringes of the village Skoutari and the bay of the same name, in Laconia on Peloponnese.
SOFIA 2
SOFIA 2 is a comfortable holiday apartment in a quiet, exposed location above the sea just outside Koroni with a wonderful view of the Messenian Bay on Peloponnese.