Ermis-Apea Villas Limeni
Villa ERMIS with shared pool in exposed position beautifully above the sea, together with the 3 other APEA Villas, located above the bay of Limeni, on the southwestern coast of Mani, in the Peloponnese.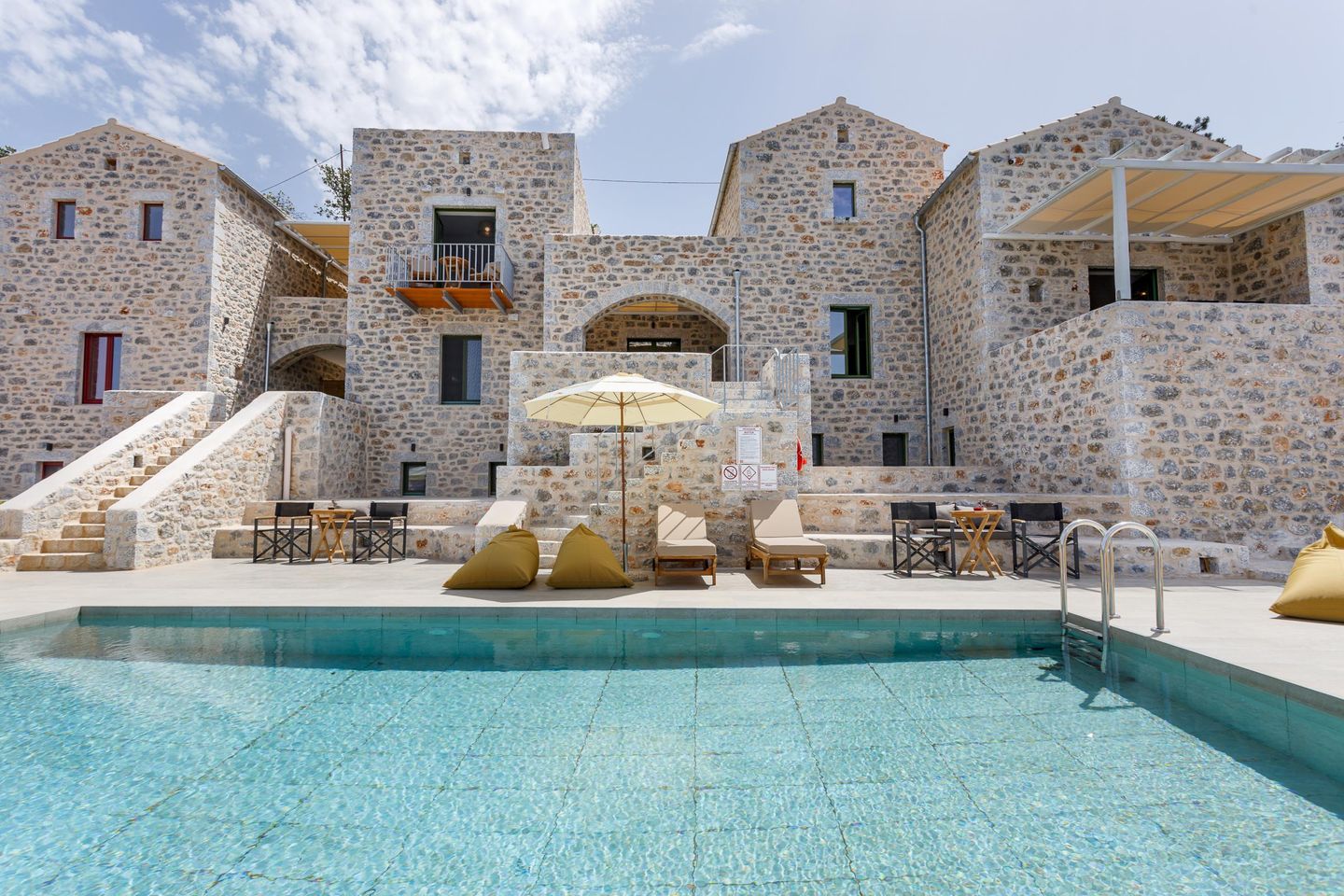 The facility
Show more text
The accomodation
On the southwestern coast of the Mani region, in a breathtaking hillside location above the picturesque Limeni, in Mediterranean surroundings, idyllic and with a wide view of the sea lies the elegant complex APEA Villas. The APEA Villas complex consists of 1 comfortable villa with private pool and 3 other comfortable villas with a shared pool. Maniotic residential towers architecturally modeled, sustainable with noble, regional materials, the complex was built on the rocky slope. Steep cliffs form the rear property wall of the estate and give the cottages a special charm.
Only stones from the property were used in the construction of the complex, with architectural details and materials from the Mani region. Free stone walls, high open spaces, wooden roof structures, shutters that can be opened inwards characterize the interior of these elegant vacation homes. Inside, modern sofas, serene colors and subtle wooden furniture make for pleasant, comfortable living.
The large infinity pools in front of the houses with the different terraces invite you to swim, linger and sunbathe. In the evenings you can end the day in a convivial atmosphere and enjoy the beautiful sunsets.
Especially tastefully furnished stone houses, thought out to the smallest detail, built in a row, skillfully separated from each other with beautiful views of the Limeni and Itilo bay and the sea. From the parking level, on both sides of the property, there are stairs (about 35 steps) leading to the cottages.
The elegant, three-story ERMIS-APEA villa is centered between the villas POSEIDON and ARIS frontal to the shared pool, with wide, beautiful sea views. Ground level access to the living room with wood paneled high ceiling and adjacent kitchenette and direct exit to the terrace in front. Adjacent to the living room are both bedrooms with shared bathroom. From the living room a staircase leads to the gallery above the living room with a sofa for 2 people, direct exit to a private roof terrace with stunning sea views. In the basement is another bedroom with bathroom and a storage room with washing machine.
The huge approx. 120sqm shared pool terrace is equipped with comfortable seating, sun loungers and umbrellas. The approx. 50sqm shared pool (9x5,5m, 1 to 1,40m deep, not heatable, in operation all year round) provides refreshment and swimming fun for young and old. Each villa has 2 sun loungers, 2 large floor cushions. 1 brick sofa with seat cushions, 2 director chairs with a table are available. There is an outdoor shower in the pool area.
If you are looking for an exclusive vacation destination, a place full of originality, close to the sea, want to swim in crystal clear waters and attach great importance to living comfort, then this vacation home is the best choice for your vacations. What awaits you here is a beautiful, well-kept ambience, Mediterranean idyll by the sea, a beautifully designed, large pool, plenty of space to play, dream, sunbathe and swim. The property is ideal for couples and families with children.
The picturesque Limeni with its turquoise waters, beautiful stone houses, taverns and cafes provide physical well-being and a rich gastronomic variety. Areopolis, which is located higher up, with its pretty alleys and intact infrastructure, covers all the needs of vacationers. Beautiful hiking routes in the nearby surroundings lead along rustic paths between old stone walls from village to village or to the sea. Please ask us, we will be happy to give you our selected tips.
Show more text
Summary
Type of accomodation

:

Holiday home

Sleeps

:

Max.

8

Persons

Only for kids

: 0

Rooms in total

: 4

Bedrooms

: 3

Bathrooms

: 2
Jassu

Classification

: 5

Stars

License or registration number:

MHTE (Greece) 1243336
Bedroom
1 bedroom (ground floor), 1 double bed (160cm).
1 bedroom (ground floor), 2 single beds (90cm).
1 bedroom (basement), 2 single beds (90cm), private bathroom with shower and toilet.
Livingroom
Sofa bed (160cmx190cm) to extend for 2 people in the open gallery above the living room.
Bathroom
Bathroom with shower, WC (ground floor).
Bathroom with shower, WC (basement), private to the bedroom.
Facilities
General
Near the sea

View to Ocean / Sea

Pool

pool is private

Internet

Wi-Fi

Television

digital TV

Safe

Pets allowed

Air conditioning

: all rooms

heating system

: via ac

Fireplace

Washing machine

fly screen

car necessity

: necessary

year of construction

: 2022
Outdoor
pool size

: 50

Garden

plot size

: 6000 m2

outdoor shower

Balcony

Terrace

Sunbathing area

garden furniture

parasol

carport

garage

Outdoor kitchen

closed plot

Private Parking place

BBQ area

BBQ type
Kitchen
Kitchen

Refrigerator

Freezer

Dishwasher

Coffeemaker

Espresso machine

Water heater

Mixer

Toaster

Sandwich toaster

Ironing board

Flatiron

Type of cooktop

: ceran

Microwave

Oven connection

: eletronic
Children
children welcome

highchair

baby cot
Distance
Distance to Ocean / Sea

: 400 m
rock plateau

Beach

: 2.2 km
Sand

Beach

: 4 km

Distance to shopping

: 3 km

Distance to Restaurant

: 2 km

Kalamata (KLX)

: 85 km

El. Venizelos,Athen (ATH)

: 325 km

Patras

: 335 km
Calendar
You might like these similar properties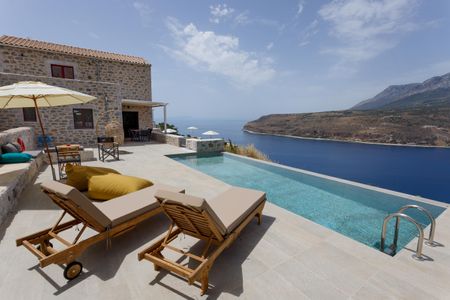 Athina-Apea Villas
Villa ATHINA mit privatem Pool in exponierter Lage wunderschön über dem Meer, gemeinsam mit den 3 weiteren APEA Villas, oberhalb der Bucht von Limeni, an der südwestlichen Küste Manis, am Peloponnes gelegen.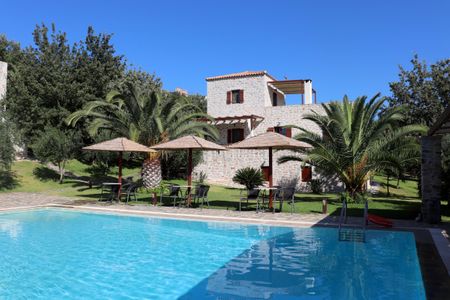 Vathia
The well-maintained property XEMONIA with pool is located above the sea at the fringes of the village Skoutari and the bay of the same name, in Lakonia on Peloponnese.